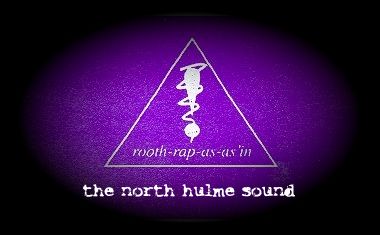 ruth'less, rooth, n. pity, sorrow, remorse. pitiless: unsparing.
rap, rap, n. a sharp blow: a sound made by knocking. -v.t. to hit sharply: to utter hastily. -v.i. to knock or tap:-pr.p. rapp'ing;pa.t. and pa.p. rapped - take the rap (slang), to take the blame or punishment, esp. in place of another. [Imit.]
assassin, as-as'in, n one of a fanatical Moslem sect whose creed sanctioned the murder of prominent adversaries: one who takes the life of another by treacherous violence.-v.t. Fr. or It. from Ar. hashshashin, 'hashish-eaters', because the assassins drugged themselves with hashish in preparation for their crimes.
The Ruthless Rap Assassins Home Page

Welcome to 'The North Hulme Sound', the Unofficial Ruthless Rap Assassins Pages. To mark the 10th Anniversary of 'The Killer Album' we started to feature an occasional series of exclusive interviews with the Assassins themselves - click here for the first. To mark the 20th Anniversary read on for exciting news about the return of The Killer. The Downloads page features a large number of MP3 tracks, including rare early demos.



NEWS - July 2021 - Fans of Ruthless and Manchester Hip-Hop will be interested in the Manchester Hip Hop Archive Exhibition on now at Manchester Central Library until September 18 2021. You should also keep an eye on the new Manchester Hip Hop Archive Web Site and sign up for their mailing list.

NEWS - April 2019 - Intriguing tweet from RRA Producer Greg Wilson. Looking forward to seeing the documentary and, again, hoping this eventually leads to something more!

NEWS - June 2014 - Kermit's 'Blind Arcade' project is producing some epic tunes! Even better, Greg Wilson has released a mixtape for free download. Get it now at Soundcloud. And pick up a bonus tune here.

NEWS - March 2013 - Check out Kermit's site www.kermitleveridge.co.uk.

NEWS - October 2012 - There's some momentous news hidden in this page promoting the launch of Ian Tilton's book Set in Stone on Monday 15th. Review now available over on the Litfest site. Hoping this leads to something more substantial...

NEWS - September 2012 - Look out for the Rap Assassins in October's Q Magazine.

NEWS - September 2011 - Great review of the Killer Album over at Rap Reviews.

NEWS - July 2011 - Great article talking about influential, underground musicians over at guardian.co.uk, with the Rap Assassins featuring prominently. Nice interview with Kermit. We're getting linked to by the Broadsheets, no less!

NEWS - March 2011 - The remastered Killer Album is available along with a number of UK Hip-Hop classic releases and a free T-Shirt in a special offer from the Original Dope label. Click here for details, while stocks last!

NEWS - October 2010 - A number of interviews from the Rap Assassins and Greg Wilson have been made available to celebrate the 20th Anniversary of the Killer's original release, and this month's reissue. Have a look at the Manchester Groove Heritage Channel on YouTube. The more perceptive amongst you will recognise some elements used for the second album here!

NEWS - October 2010 - Today (the 11th) marks the release of the 20th Anniversary reissue of the Killer Album. Head over to Original Dope now to get your copy (and a T-Shirt!). There are nice write ups over at HipHop.com and Fat Lace Magazine.

NEWS - September 2010 - You can also now order Ruthless Rap Assassins T-Shirts from Original Dope.

NEWS - September 2010 - Read the Press Release for the forthcoming reissue of the Killer Album here, or head over to the Original Dope Web Site. You can now place orders directly from the Original Dope Web Site through Cherry Red.