ruthless
split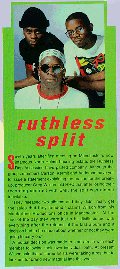 Seven years after first meeting on Manchester's now infamous North Hulme housing estate, the Ruthless Rap Assassins have parted company. Although the group members Carson, Kermit and Anderson have yet to issue a statement explaining the reason for the break-up, producer Greg Wilson told HHC that after losing their recording contract with EMI, the split was almost inevitable.

"They released two albums and they didn't really get the sales that they needed." claims Wilson from his Murdertone Productions office in Manchester. "At the end of the day they were just a bit disillusioned with everything after the release of the last album and a decision had to be made about whether or not they were going to carry on."

A mutual decision was made to start afresh with each member following their own individual path. At present Wilson said that all three artists were taking a rest but to look out for brand new material late this year.