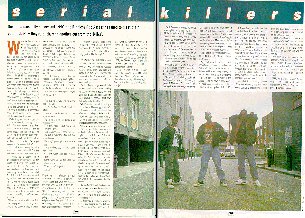 serial killers
Despite a musically successful 1990, the Ruthless Rap Assassins failed to meet their potential. Now they're back, with another cut from the 'Killer'.

When the Ruthless Rap Assassins dropped the 'Killer Album' in the summer of 1990 it was acclaimed in these pages as the best album the UK had ever produced. And HHC wasn't alone in that opinion, as even some of the weekly's hacks tipped their hats to the Assassins' achievement - a no bullshit, no compromise collection that blew the lid off blacks' experience in modern Britain. The Rap Assassins are different - which is a possible reason why some more conventional hip-hop fans turned their backs. Dubbed by cynics in their early days as an "indie rap band", MC Kermit Le Freak retorted, "What the f*** is an indie rap band? We don't make music to cater for other people, we make music for ourselves." As he and Carson (DJ Dangerous C) now relax at Murdertone's Manchester office, Kermit remains on the offensive with the Assassins' detractors.
"It's basically 'cos we use music that they're not used to, so they label it 'indie'. They can't pigeon-hole it.. but I don't think we're a band that can be pigeon-holed. I see it as just us doing something that nobody else does, that's why we get called that. But we are hardcore," he insists. "We've got hardcore roots, hardcore lyrics."
That point is hard to deny. From the polemic of 'Justice (Just Us)' to the rock/rap of 'Go Wild', the 'Killer Album' still kicks up a storm. Their disappointment with remaining on the fringe of British rap might be highlighted by the fact that the Assassins have some killer tunes. Just about everyone who heard it pin-pointed 'And It Wasn't A Dream' as a potential big hit, but when it was released as a 12", no-one on national radio would touch it. Manager Greg Wilson promptly issued a curt press statement castigating radio for its prejudice - an opinion borne out by Kermit's own view of events.
"There was a lot of shit over that. Like, the guy who does the playlists at Radio 1 said somethin' like, 'It sounds like a bunch of niggers with a chip on their shoulder', and that really f***in' annoyed me. As far as everyone else is concerned, that was the single off the album that was going to let the Rap Assassins be known nationwide. But we didn't get the support from Radio 1, and... well, it just didn't happen did it? It's unfortunate, 'cos that single was a very valid point. Those things needed to be said."
Kicked in the face once, the Rap Assassins are coming back fighting. February sees the release of a remixed version of 'Justice (Just Us)'. One look at the lyrics shows that the North Hulme crew are not chilling out - they're turning up the heat.

"You love me and you hate me for the size of my lust
You tell me that I'm violent if I kick up a fuss
They lock me in asylums at the slightest excuse
My name is well connected with narcotics abuse
You only read about me when commiting a crime
Your only protection is a thin blue line
I've got a love/hate affair with the national press
My family's pathological, my life is a mess
Social workers love me 'cos I keep them in work
Can't get a job myself 'cos I'm seen as a jerk
When you're lying on the edge you gotta do what you must
'Cos there ain't no justice
Just us"

It's got zero chance of daytime play but as Kermit says, "We were coming in 'lightly' before, but we've now reached the stage where we just say 'f*** 'em', y'know? Go on with the killer from the 'Killer'. You try one way and get f***ed about and you just say 'F*** it'. We're going to stick to what we know. We're not puttin' down 'And It Wasn't A Dream' or anything, but for me 'Justice' is the heart and soul of the Rap Assassins."
"The remix is alright," chips in the relatively reserved Carson. "It wasn't really done by us - Greg (Wilson) did one, but the TA Mace mix - which is really good - will be the single."

DISREGARDING OF ANY HOPES of chart success, the Rap Assassins spent much of 1990 spreading the Ruthless gospel. The last time I saw them was supporting funk experimentalists Tackhead at the Brixton Academy. It was crap. The sound was duff, the Assassins limp.
"Yeah, I know," says Kermit. "We weren't happy, but there was nothing we could do about it really 'cos we were like a support band. Support bands always get nobbled, don't they? We'll make up for it next time."
With December's snowdrifts putting a stop to their last London gig, the band's next appearances will coincide with the release of the single in February. But they've also been taking their brand of hip-hop to the continent, including a short but successful tour of Holland.
"When we were over there we heard some really good stuff - one crew in particular, who are the same sort of style as the Tuff Crew," Kermit remembers. "It was dope man, I was well surprised! There's some Puerto Rican bloke who's moved over to Holland and he's working with these Dutch guys and a singer... good stuff though. There's also another crew called the Nine To Five Posse doin' some heavy, heavy stuff - like Def Jam, steady, steady rock. The rhymes aren't up to much yet, but that's what happened over here too. The music was there early, but the rhymes weren't really up to scratch were they..? Well, not until the Rap Assassins hit the scene!"
Like most other crews, the Assassins are not exactly lacking in confidence. And signed to EMI, they're hoping to get more help from the corporate machine this year.
"At first they didn't know what the f*** to do," laughs Kermit, "but now they're dealing with us more directly, with what we wanted to say and everything. But there'll be a big turnabout this year as far as the Rap Assassins are concerned - that's what I reckon anyway - 'cos we're on the main label now, not the dance label. So in 1991, the Christmas number one will be the Ruthless Rap Assassins featuring Cliff Richard!"
Yeah... maybe! But what about another hiccup in '90 when EMI pulled them from Channel 4's Dancedaze show after a row over video copyright. Was that the downside of working with a major?
"Well, Dancedaze wanted worldwide video rights so we just said 'f*** it'. What's the point in that? Suppose, just suppose, we do really well then they can just do what they want can't they? We were quite chuffed with EMI for that... I mean, I've seen the programme man! We don't like to mime when we do a show, we like to do our thing - and we don't do out thing over tapes of our vocals. It's got to be live and direct, y'know?"
Perhaps a bigger worry is the way the Manchester hardcore scene has been eclipsed by the raving hyped Happy Mondays and Stone Roses.
"It's true," Kermit admits, "but I think that's what happens to black music in general. Manchester's known for all these guitar based bands, who for the last couple of years have started working with dance producers and coming out with this stuff which has just diluted the sounds of what's really on the streets in Manchester. We'd been going a while ourselves, and we knew from first hand experience that there's a lot of prejudice involved..."
Then there's the regional differences in Britain as a whole; Carson illustrates.
"My girlfriend lives in London, Tottenham - and she says nobody on the South Side has heard of 'Just Mellow' and it wasn't being played, but all the pirates in the North are playing it all the time. It's the same in the shops - some will have it, some won't. We need more support... true, but the followers we have got are dedicated."
That, eventually, is the bottom line. The Ruthless Rap Assassins are talented, but if they're ever going to break through, they've got to overcome the regional and racial prejudice that's dogged them so far. A good step would be the release of some new material instead of another remix of the last album. But as Carson reveals, there probably won't be more EPs of the nature of 'Drone Sessions' and 'Four From The Killer', "As that was eight tracks off the album! Although there's other tracks on the LP and all the slices inbetween, some people might decide not to buy it. So p'raps just four next time."
They admit to not having planned 1990 well enough, but with their record company increasingly behind them and their documentary planned for a screening soon, maybe this will be the Rap Assassins' year.
"We're hitting the road in February to coincide with 'Justice', then we're back in the studio, and we might be touching down in the New Music Seminar in the summer. But we'll see how it goes."
"For this year, we just hope to have another album that'll live up to the 'Killer'", reflects Carson. "Killer was acclaimed as this and that, so now we have to follow up." And if that was the 'Killer', what will the next one be called?
"Ahh, we don't know yet!" Kermit laughs. "Perhaps we'll run a competition to name it." Any ideas out there?

Michael Leonard