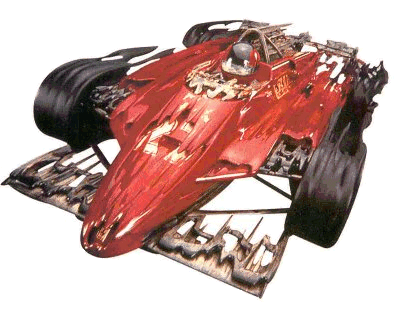 Welcome to my rather half-hearted attempt at a web page, now relocated thanks to Yahoo Geocities shutting up shop. You can also use the slightly more memorable http://www.balsom.org/ to get here instead of the longer F9 address. It would be better to use this for any links or bookmarks in case I ever move the site again.
---
I've left the Wedding Pages up so people can see the Pictures and refer back to the travel information if they ever fancy going back over to the area. Talking of the Wedding, you can visit Christina's blog at Blogspot.com, which is already much more useful than anything I've put on the Internet.

The other main section of my pages is the North Hulme Sound - The Unofficial Ruthless Rap Assassins Web Site - you can click the exclamation mark logo on the left-hand bar to have a look, or try http://www.rapassassins.co.uk/.

The image of Gilles Villeneuve's Ferrari I've used above comes from a sculpture by Dennis Hoyt. Please have a look at his site for more examples of his work.

My somewhat concise Food List has just been added to the site. If you're ever wondering what to get me for Birthday or Christmas, I've very kindly provided loads of hints on my Wish List at Amazon! Note you may still need to search for "Mark Balsom", as otherwise you'll just see an example list.
---
Mark Balsom

, 1995-2010
Sign My Guestbook
View My Guestbook
According to Digits.com there have been at least

visitors since I started counting in 1996 - the fools...